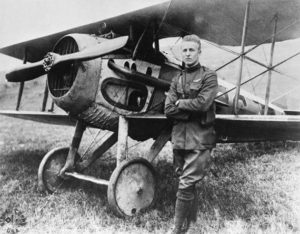 "Balloon Buster"
He was the most daring aviator and greatest fighter pilot of World War 1, which ended in 1918. He was the superhero of his era, the first American airman to receive a Medal of Honor.  Frank Luke was a real life hero whose daring exploits set the standard for training fighter pilots in future wars. This is the story of his heroism at a crucial stage in the war in France as he quickly matures from boy to man. He is the first American airman to win a Medal of Honor.
Frank Luke was only twenty-one when he accomplished these feats. He dared to try new things when others wanted to play it safe. He likely suffered from A.D.H.D., although at that time it was not diagnosed as such, but was simply referred to as "the fidgets." Frank was a young man eager to prove himself and become a hero, yet the least likely to do so. He had no college education, as did most of the other pilots. He was one of the youngest and ill-equipped to take a leadership role. Yet, during the critical two-and-a half weeks from September 12th to September 29th, during two major military offensives, he set an astonishing record and achieved international notice as the "Ace of Aces."
This film marks the 100 year anniversary of the end of World War 1, a time when aviation was not yet accepted into the military sector.
Interested Producers: Contact me know if you would like to read the script.
This project needs producer, financiers, actors.  Tel. 660-382-4681.
Copyright 2018, Jerry A. Robbins, Balloon Buster Productions, LLC