The Hero ….
The Hero is a war drama centered around Matt Green, a World War I pilot and balloon buster.  The balloons are heavily protected by  enemy planes in the air and anti-aircraft guns on the ground, making this a very dangerous mission that no other pilot wants to undertake.
Matt is eager to prove himself and taking out balloons appears to be the way to do it.  He pushes himself harder than anyone else to become a master balloon buster.  Unsatisfied with his commander's conservative way of thinking, he tries new ways to take out the balloons as the Germans adapt to his methods, which include both dawn and night attacks.
He succeeds in becoming the Ace of Aces, taking down more enemy aircraft than any other pilot. After losing his best buddy and wing man, he continues his mission, while teaching other pilots his tricks.   He no longer cares if he is a star – he sees that with his new-found hero status there are responsibilities also.
Although his plane is hit on one last mission, he dies a hero.  He has learned what being a hero really means.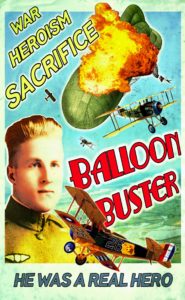 Producer:JERRY ANN ROBBINSWriter and producer, Jerry specializes in historical period pieces as well as contemporary writing.

Executive Producer:

ELENI LARCHANIDOU, LLM

Eleni is a trilingual Producer, Executive Producer, Talent Manager, a Fully Qualified German & International Lawyer with a US Masters degree in International Law (LLM), and an International Business and Development Consultant in the Film & Entertainment Industry.
She was born in Greece, and lived on two Continents and three Countries — Greece, Germany, and the U.S. She is a resident of California, USA, and Thessaloniki, Greece, and holds a dual citizenship, American and Greek .
Her entertainment industry activities span several Continents.
Eleni first became involved in entertainment in 2004 as a business consultant for producers seeking financing for their independent feature film projects. By 2014, Eleni was being asked by screenwriters and book authors to help them find homes for their work and by producers and executive producers to support them in the journey of finding the right funding solution and source.
Eleni currently helps connect screenplay writers to production companies and television networks. She deals directly with talent agencies and talent managers to help package her clients' projects. Her clientele includes screenwriters, book authors, directors, music composers, musicians, editors, actors, and other talents.
Her duties include fund raising and structuring financial plans, through the use of foreign co-productions, equity financing, debt financing, production incentives, subsidies, grants, gap financing, presales in domestic and/or international territories, product placement financing, branding, sponsoring, soundtrack financing, and other money sources.
Eleni also helps with casting and crewing of her clients' projects.
Eleni is also directly in touch with a Matching Fund Provider (50% of the budget in 2nd position), plus she is also involved with the acquisition of a Movie Fund and an International TV Network. Eleni's business network is growing quickly because of her expertise in sourcing entertainment resources, and matching the specific needs of each film project. A list of her current film portfolio can be sent upon request.
EMAIL:movieselenilllm2014@gmail.com

REPRESENTATION
Eleni Larchanidou, LLM
Talent Manager
EMAIL: movieselenilllm2014@gmail.com, elenilllm_manager@protonmail.com
PHONE GREECE: +30-697-9619813 Mobile PHONE USA: +1-714-702-5507 Voicemail
SOCIAL MEDIA: IMDB IMDBPRO LINKEDIN
****************************************************************************
"We loved with a love that was more than love." –  Edgar Allan Poe.
A string of grisly murders begins after the rape of a college student, embroiling her, her friends, her parents, and the investigators in a murder mystery of horrifying revelations.
Jerry Robbins, Joe Monahan, and Keith Mullin, writers
Jerry Robbins and Joe Monahan, producers
Eleni Larchanidou, LLM,  Executive Producer
in conjunction with Visions Entertainment