The script for Balloon Buster is now completed.
Looking for investors, producer, actors.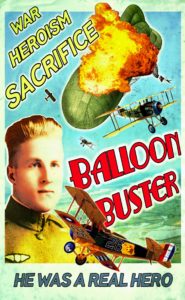 He was the most daring aviator and greatest fighter pilot of World War 1, which ended in 1918. He was the superhero of his era, the first American airman to receive a Medal of Honor.  Frank Luke was a real life hero whose daring exploits set the standard for training fighter pilots in future wars. This is the story of his heroism at a crucial stage in the war in France as he quickly matures from boy to man.
Contact Information:
Jerry A. Robbins, Balloon Buster Productions
Tel 660-382-4681
Email address:  jerryr48@gmail.com
Linked In:  https://www.linkedin.com/in/jerry-robbins-57932322
Imdbpro:   https://pro-labs.imd…/name/nm7186454